Inline Solutions is a distributor Monley Bars and we carry all Monkey Bars Garage Storage Solutions.  You can learn more about Monkey Bars and the other products we carry on the Product Page.
We are a family run floor coatings business and we love what we do. We have been in business for many years, and don't plan on stopping anytime soon. We take great pride in our craft, and in our service to you.
Inline Solutions offers an incredibly wide range of products and services. Storage walls, decorative concrete, concrete repair and our famous one day garage floors are just a sample of what we can offer you.
Our clients include businesses, municipalities and everyday property owners from all over the capitol region. Our dedication to detail, safety, and customer satisfaction has earned us a reputation as a team you can trust.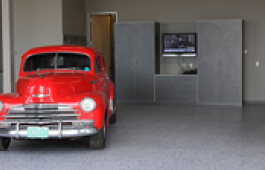 Inline Solutions is a family run business, based in Spruce Grove, Alberta. We pride ourselves on our quality. Not only with the quality of our workmanship, but the quality of our customer care as well. We welcome all forms of inquiry from residential to large commercial contracts.
Inline Solutions is a certified installer for HP Spartacote and also Elite Crete.
You may like to look at these sites for more product and technical information.